Crazy Bear Fitzrovia
26-28 Whitfield Street
Fitzrovia
London , Central London (W1T 2RG)
Need Help? Use our
FREE
Service.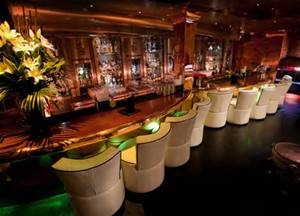 The first Crazy Bear London venue opened in 2004, surpassing every expectation in terms of popularity and accolades including:
The Evening Standard's best bar of the year award; Theme Magazine's best designed and best operated bar; The Times' runner up for best bar in Southern England.
Tucked away in Fitzrovia, Crazy Bear London is an enticing London dining hotspot, drawing in a glamorous crowd of regular diners and partygoers.
Recommended by Via Michelin and Hardens dining guides, contemporary Thai dining at the restaurant is a sumptuous experience and can be enjoyed amidst a seductive backdrop featuring funky design, an Art Deco chandelier and leather walls.
Read more