Dukes
St. James's Place
London, (SW1A 1NY)
Need Help? Use our
FREE
Service.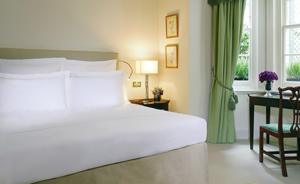 Dukes is ideally located for London's finest restaurants, most fashionable shops, exciting galleries and fabulous theatre productions, with excellent links to the City and Canary Wharf.
The sophisticated Dukes Bar, the most "happening" bar in St. James's, attracts a metropolitan crowd who come to experience great cocktails and the best dry martini in town.
The elegant Dining Room at Dukes is ideal for a relaxing meal with friends and family. The tempting season menus offer classic British dishes, while desserts feature several old favourites. A great wine selection includes a special reserve selection with predominantly Old World reds in addition to fun and affordable New World wines.
Dukes has a Drawing Room and Conservatory overlooking a Courtyard Garden; a relaxed environment for breakfast, traditional afternoon tea, or a light meal at anytime. From 8pm, the garden opens as the Cognac & Cigar Garden for post dinner drinks and cigars.
Read more
Room Information
Room Name
The Marlborough
Room Name
The Drawing Room
Room Name
Conservatory and Courtyard Garden