Green's Restaurant & Oyster Bar
36 Duke Street
St.James's
London, (SW1Y 6DF)
Need Help? Use our
FREE
Service.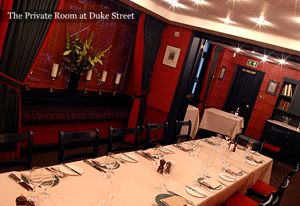 Whether the desire is for a quick lunch at the bar, over a plate of oysters and a glass of Champagne. Or a table in the main restaurant, with the very popular booths being among the most sought after tables in London the formula of friendly, efficient service and the finest ingredients carefully prepared. Not to mention the delights to be found on the wine and whisky list, will surely lead you to a wonderfully satisfying experience.
For an important business meeting or a relaxing meal with friends and family, Green's Restaurant is a perfect London hideaway.
The bar at Green's, 36 Duke Street St. James's is one of St. James's best kept secrets allowing discreet surroundings for the most confidential business discussions or a relaxing ambiance to meet with friends.
Read more
Room Information
Room Name
St.James's Room