Two Temple Place
London, Central London (WC2R 3BD)
Need Help? Use our
FREE
Service.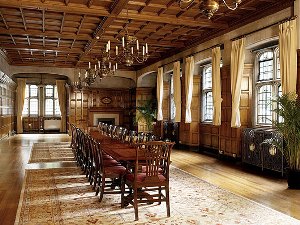 The Great Hall is an exclusive and prestigious room of considerable elegance and character which can be adapted to accommodate either the most lavish of events or an occasion requiring a more intimate or under-stated atmosphere.
The Great Hall, designed in the Renaissance style but essentially Tudor in plan, leads directly off the gallery and the room extends the whole length of the building on the river front, standing 35 feet high to the ridge and open to the roof, which is of hammer-beam type and a spectacular example of modern Gothic timber work, being all of richly carved Spanish mahogany.
The east and west stained glass windows represent Swiss landscapes at 'Sunrise' and 'Sunset' and are the work of Clayton and Bell.
Read more
Room Information
Room Name
The Gallery and Library
Room Name
The Lower Gallery
Room Name
Whole Venue - over 2 floors